NEW PRODUCT: Twill carbon fiber rear fender for Ducati Panigale V2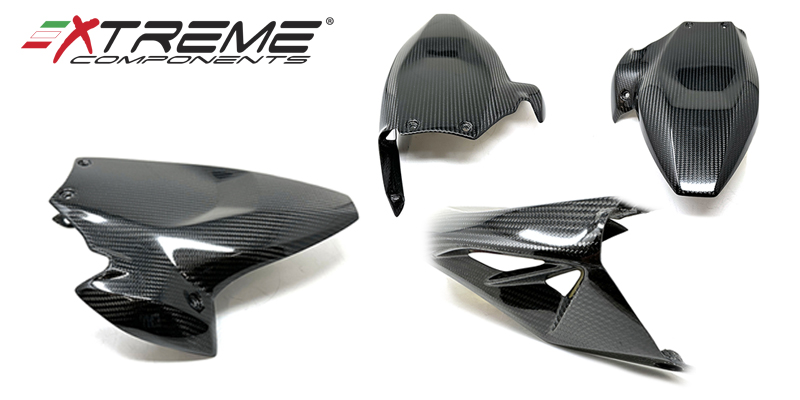 Extreme Components is proud to continue the presentation of new parts for Ducati Panigale V2.
After the rearsets, fairings and engine case covers is now the turn of the best carbon fiber parts to protect and improve the latest Supersport of Borgo Panigale.
New rear fender made in carbon fiber, twill weave 200gr.
The rear mudguard is shorter than original one to be used with any type of exhaust and guarantee the best protection to the shock absorber and linkages.
The installation is easy and no modification are needed even on OEM bike.
The parts fit on 1199, 1299 and Panigale V2.
Our rear fender if combined with our swingarm cover make the highest result in terms of performance (protection in case of crash and spray protection in wet conditions) and in aesthetics term making It seem these two parts a unique structure of carbon fiber.
All our carbon fiber parts are realized with hand lamination (autoclave process 5 bar 120°) using pre-preg carbon fiber tissue, twill weave 200gr. This same technique, process and materials are used from us for the production of parts for some World Championship motorcycle teams.
The rear mudguard is supplied glossy finished (or matt on request only).
Technical aspects CARBON fiber parts:
• The lightest and the strongest available on the market, thanks to our gained experience on World Championships such as Moto3, Moto2 and MotoGP
• Laminated with twill carbon fiber pre-preg 200gr.
• Autoclaved produced, at 90° and 5 bars of pressure with vacuum technology
• Pre-drilled
• Ready to be mounted on the motorcycle, no modifications needed
Now available
Only Racing use
Extreme Components