NEW PRODUCT: Epotex fairings BMW S1000RR 2023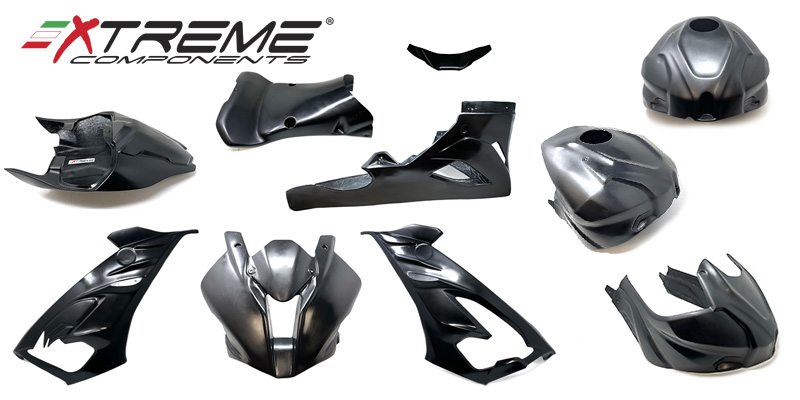 Extreme Components is proud to present new Epotex fairings for the last born of Monaco di Baviera: the BMW S1000RR 2023.
The fairings are made up from the cold lamination (non autoclave) of fiber glass mixes with a special resin developed on our specs.
The finishing is made up by a special black gelcoat developed on our specs as well.
Our fairings are the lightest on the market If compared to standard fiberglass fairings or avio fiber fairings.
All the mounting points are marked and reinforced with carbon-kevlar.
The set is made up by:
• Front upper race fairing
• Race side panels (left+right)
• Lower race fairing
• Tail unit with separate seat
• Tank cover
We offer three different choices of tank covers:
• Airbox cover with side panels (like OEM)
• Full tank cover STOCK shape
• Full tank cover SBK shape, integrated seat spacer to help rider on hard braking.
In addition to the fairings we produce also the Epotex winglets 2023 model, Epotex front fender and many other Aluminium and Twill Carbon Fiber parts.
Technical aspects of EPOTEX Fairings / Bodyworks and Parts:
• 30% lighter than standard fiberglass fairings and parts
• Laminated with Epoxy resin (developed to our specs)
• The external side is made up by black gelcoat
• Additional unidirectional carbon reinforcements on all the mounting points for greater durability and ease installation
• The most flexible and elastic fairings available in the market of fairings not in autoclave produced
• Parts are not painted
• Not pre-drilled and not supplied of fasteners
• Mounting points are indicated on the single parts.
Now available
Only Racing use
Extreme Components.